Gasymov Tofig Masim
Gasymov Tofig Masim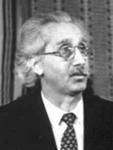 (10.04.1938 - 29.01.2020)
Tenure of Office
(04.07.1992 - 26.06.1993)
Tofig Masim oghlu Gasimov was born on April 10, 1938 in the Laki village of Agdash district of Azerbaijan. In 1955-1960, he studied at the Faculty of Physics and Mathematics of the Azerbaijan State University, and was a Stalin scholarship receiver at the University. After graduating from the University, he started working at the Institute of Physics of the Academy of Sciences of Azerbaijan.
T.Gasimov continued with his postgraduate studies at the Institute of Physics of the USSR Academy of Sciences, and in 1969 obtained his PhD degree.
Since 1987 T.Gasimov has been involved in politics. At first, together with a group of scientists from the Academy of Sciences, he founded the Baku Scientists Club. On the basis of this club and other bodies, the Popular Front of Azerbaijan (PFA) was later established. T.Gasimov participated in drafting the PFA Charter and was one of its board members.
He was elected people's deputy of the Soviet Socialist Republic of Azerbaijan and participated in the extraordinary session of the Supreme Soviet of Azerbaijan convened on January 22, 1990. At that session, he was elected a member of the Investigation Committee of the Supreme Soviet of Azerbaijan established to investigate the crimes committed in Baku by the Soviet Army.
He was sent to Moscow on February 1990, and during his stay, he disseminated truth about the January tragedy to more than 100 foreign media representatives and journalists.
He is one of the initiators of the declaration of state independence of the Republic of Azerbaijan on October 18, 1991 and one of the authors of the Constitutional Act on the Independence of the Republic of Azerbaijan.
In May 1992, he was appointed the Minister of Foreign Affairs and served until June 26, 1993. During this time, Azerbaijan established diplomatic relations with approximately 150 foreign countries; the embassies of several great powers were opened in Azerbaijan and vice versa. During his tenure as Minister, the Republic of Azerbaijan joined the Organization for Economic Cooperation, the Organization of the Black Sea Economic Cooperation and many others.
He speaks English, Turkish and Russian.
---