Tahirova Tahira Akbar
Tahirova Tahira Akbar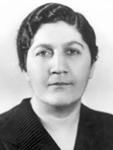 (1913 - 1991)
Tenure of Office
(1959 - 1983)
One of the prominent public, political and state figures of Azerbaijan, Tahira Akbar gizi Tahirova was born on November 7, 1913 into an educated family in Bayramaly, Zakaspi Province (Turkmenistan).
She graduated from the Azerbaijan Industry Institute in 1935 and was sent to the Azerbaijan Scientific Research Institute as a scientific worker. T.Tahirova was the first Azerbaijani female professional obtaining a degree of higher education related to the oil industry. In 1942-1949, she served as Deputy Chief of Oil Department of the Central Committee of Communist Party of Azerbaijan, Deputy Oil Secretary of the Central Committee, and the Secretary for Personnel of the Baku Committee of the Communist Party of Azerbaijan.
T.Tahirova has been relieved of her duties because of hiding from the government her adherence to Muslim religious rituals. Subsequently, she returned to research and teaching, and worked at the Azerbaijan Institute of Oil and Chemistry from 1949 to 1954, where she defended her dissertation and obtained the PhD degree in technical sciences.
In 1954-1957, T.Tahirova was the Chairwoman of the Council of Workers Union of Azerbaijan, and in 1957-1963 served as the Chairperson of the State Committee for Science and Technology under the Council of Ministers of the Azerbaijan SSR.
In 1959-1983, she served as Minister of Foreign Affairs and Deputy Chairman of the Council of Ministers of the Azerbaijan SSR (1963-1968). Until 1968, she was also in charge of other governmental duties along with serving as the Minister of Foreign Affairs in accordance with the Soviet laws of the time in the Union republics (with the exception of the Ukrainian SSR and the Belorussian SSR, which had their representations in the UN). Nevertheless, as a result of T.Tahirova's efforts, Azerbaijan became the first Union republic after Ukraine and Belarus that the position of Foreign Minister began to function separately as other ministerial positions. Thus, at her own request, she was relieved of her additional positions in 1968, and completely committed herself to diplomatic service.
T.Tahirova was awarded with the Order of Lenin, the Order of Red Banner of Labor (6 times), the Order of the Badge of Honor, Order of Friendship of Peoples and many other medals.
She died on 26 October, 1991 in Baku.
---