Jafarov Mammadyusif Hajibaba
Jafarov Mammadyusif Hajibaba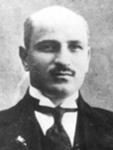 (1885 -1938)
Tenure of Office
(14.04.1919 - 22.12.1919)
One of the prominent political and public figures of Azerbaijan, Mammadyusif Jafarov was born in 1885 in Baku. After graduating from the male gymnasium in Baku in 1907, M.Jafarov went to Moscow, and entered the faculty of law of the Moscow University. He was one of the leaders of the "Azerbaijan Ethnographic Concert Evenings" organized by Azerbaijani students in Moscow as well as the "Organization of Azerbaijani fellow citizens".
In 1912, he graduated cum laude in law from the Moscow State University.
He was elected deputy by the Muslim population of the provinces of Baku, Elisabethpol (Ganja) and Erivan to the IV State Duma opened in 1912 in St.Petersburg. M.Jafarov joined the Kadet party in the Duma. While in the Duma, he repeatedly criticized the colonial policy pursued by the Tsarist government in Azerbaijan.
On November 15, 1917 the Independent Transcaucasian Government - Transcaucasian Commissariat was established under the chairmanship of E.Gegechkori in Tiflis, and M.Jafarov held the post of Minister of Trade and Industry in this Government.
When the Azerbaijan Democratic Republic was proclaimed on May 28, 1918, M.Jafarov was appointed the Minister of Industry and Trade within the Government of Azerbaijan organized by F.Khoyski. M.Jafarov was the diplomatic representative of the Azerbaijan Democratic Republic in the Republic of Georgia from the end of June 1918 to mid March 1919.
On 14 April, 1919, M.Jafarov was appointed the Minister of Foreign Affairs of Azerbaijan in the Government of N.Yusifbayli. He served in this position until December 22, 1919 and made exceptional endeavors for the recognition of the Azerbaijan Democratic Republic in the international arena.
He was elected Deputy Speaker of the Azerbaijani Parliament in February 1920. Due to the absence of Speaker A.Topchubashov, M.Jafarov served as the Acting Speaker until April 27.
On the 27th of April, 1920, after tense discussions at the last session of the Parliament, M.Jafarov signed the decision to transfer power to the Interim Revolutionary Committee of Azerbaijan led by N.Narimanov.
After the collapse of the Azerbaijan Democratic Republic, M.Jafarov worked as a legal adviser in the cotton and wine trusts of Azerbaijan.
He died on May 15, 1938 in Baku.
---