Hajinski Mammadhasan Jafargulu
Hajinski Mammadhasan Jafargulu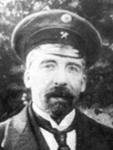 (1875 -1931)
Tenure of Office
(28.05.1918 – 06.10.1918)
Mammad Hasan Jafargulu oghlu Hajinski, well-known political and public figure of the time, the first Minister of Foreign Affairs of the Azerbaijan Democratic Republic, was born on March 3, 1875 in Baku. Having completed the Baku Realschule (Real School), M.Hajinski entered the Peterburg Institute of Technology to go on to further education and graduated from the said institute in 1902. As a young engineer, he worked for few months in Moscow at the construction of oil refineries of one of the Azerbaijani industrialists, Shamssi Asadullayev, and then returned to Baku and was appointed the head of the urban construction department.
The years of 1917-1920 were the most intense period of M.Hajinski's political and social activity. On February 23, 1918, the Transcaucasian Seim, comprised of Georgian, Armenian and Azerbaijani representatives, began its work in Tbilisi. About 30 people from the Musavat Party and neutral Democratic groups from Azerbaijan, as well as M.Hajinski, participated in its work.
On April 22, 1918, Seim announced the establishment of the Transcaucasian Democratic Federative Republic by majority vote. On April 26, a new Transcaucasian government was formed. M.Hajinski was the Minister of Trade and Industry in this government.
On May 27, 1918, Azerbaijani deputies of Seim called for an extraordinary meeting and announced the establishment of the Interim National Council of Azerbaijan. On May 28, at the first meeting of the National Council, the Azerbaijan Democratic Republic was proclaimed and M. Hajinski was appointed as the first Foreign Minister of Azerbaijan.
M.Hajinski was also among the members of the Azerbaijani Parliament, which began its activity on December 7, 1918. At the meeting of the Azerbaijani Parliament held on 28 December, A.Topchubashov as Chairman, M.Hajinski as Deputy Chairman and others were included into the delegation that would participate in the Paris peace talks.
At the end of December 1919, the government changed due to crisis in connection with the difficult political and economic situation in the country. In the 5th cabinet organized by N.Usubbeyli on December 24, M.Hajinski served as Minister of Internal Affairs, and since February 18 as Minister of Trade, Industry and Food.
After the overthrow of the Azerbaijan Democratic Republic, which was the first democracy in the East, by Soviet Russia in April 1920, M.Hajinski held various positions at the Supreme Economic Council of the Azerbaijani SSR as well as the Transcaucasian State Planning Committee, and involved in the building and construction of new industrial towns and reconstruction of Azerbaijani cities.
Like other prominent political and public figures in Azerbaijan, M.Hajinski's destiny was also miserable. M.Hajinski was subjected to repression and was arrested on December 3, 1930 in Tbilisi by the Transcaucasian State Political Administration, and died in the Tbilisi prison on March 8, 1931 due to severe conditions.
---